Keap and Consulting Services
Grais Web Marketing is a Certified Consultant for Keap, one of the leading email marketing, CRM, and automation software in the marketplace today.  Thousands of clients have implemented Keap in their business to grow their success in their markets as well as finding ways to automate their business and sales processes.  eMail marketing is far from dead, but it is more important today to ensure your marketing program is more than a one channel effort.
The Power Of The Internet For Your Business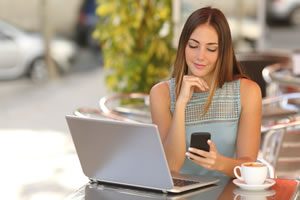 If you're looking to build your business and bring it into the world of digital marketing, having a system like Keap is critical.  Not only can Keap handle your ongoing email marketing campaigns, message broadcasts, and tracking of prospects... it is built to run in the 'cloud' where so many tools for business exist today. That means that you're not stuck doing a lot of manual entry between your applications because automation can be created within Keap as well as with hundreds of other business applications.
Most entrepreneurs and small business owners don't consider the overhead of having to use multiple applications to manage their business and marketing.  Especially, when those applications don't seem to work together.  The exciting thing about today's computer software is the expanse of functionality that is available and very little of it has to be installed on your own computer.  This has created lots of flexibility and ways to do almost anything in setting up the tools and processes to help your business succeed.
You Don't Have to Start From Scratch
Keap delivers to you a core system that is powerful and has great potential.  Unfortunately, it isn't designed specifically for your business so you would have to build all of the campaigns and emails to fit your business.  That's where Grais Web Marketing comes in.  We have experience working with a variety of clients in a lot of industries.  We understand digital marketing, how to build effective campaigns and populate them with the right automation and messages.  You work full time (and likely more) just running your business and building it to succeed and grow.  Taking on a new system can be a daunting challenge or even require hiring a full time employee to build and manage it for you.
So, to make it easier to invest in your Keap and build a successful marketing and automation machine, Grais Web Marketing can do it for you.  We know how to build out successful campaigns and we understand how content needs to be delivered to your prospects and clients.  We can build campaigns that are ready to launch in shorter schedules.  We also have the capability to manage your Keap and your marketing campaigns for your existing list(s) and helping you build new ones.